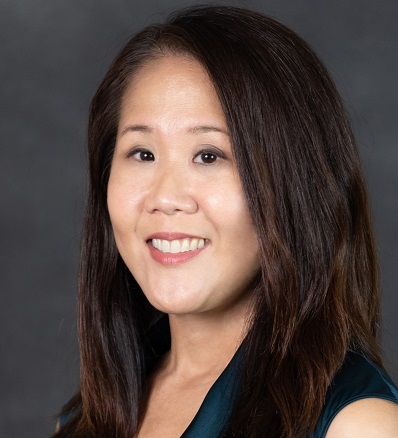 Caryn Oshiro, PhD, MS, RD
Collaborative Investigator
Contact Info
Email: Caryn.ES.Oshiro@kp.org
Phone: (808) 432-5555 x1486
Caryn is an epidemiologist and registered dietitian (RD) by training. As an early stage investigator, her research interests include using a life course approach to study chronic disease epidemiology. In particular, she is interested in pre- and postnatal risk factors (e.g., nutrition and growth) related to child obesity and the interplay of health behaviors during these early periods as critical windows of opportunity for intervention to impact later adult health.
Her early experience as a clinical RD and working as part of interdisciplinary teams in the health care system was invaluable in gaining clinical expertise in the inpatient setting. As an outpatient RD at Kaiser Permanente, she worked with members using strategies to improve diet and support lifestyle modification. As a researcher connected to the health care system, she uses both epidemiologic and clinical experiences to translate research into knowledge for use by the public and providers in health care practice.
Selected Publications:
Oshiro CE, Novotny R, Grove JS, Hurwitz EL. Race/Ethnic Differences in Birth Size, Infant Growth, and Body Mass Index at Age Five Years in Children in Hawaii. Child Obes. 2015 Dec;11(6):683-90. doi: 10.1089/chi.2015.0027. Epub 2015 Nov 12. PubMed PMID: 26561722.
Oshiro CES, Frankland TB, Rosales AG, Perrin NA, Bell CL, Lo SHY, Trinacty CM. Fall Ascertainment and Development of a Risk Prediction Model Using Electronic Medical Records. J Am Geriatr Soc. 2019 Jul;67(7):1417-1422. doi: 10.1111/jgs.15872. Epub 2019 Mar 15. PubMed PMID: 30875089.
Full List of Publications:
Studies:
GOMOMS: CHARACTERIZING, BY TRIMESTER, CONTINUOUS GLUCOSE MONITORING MEASUREMENTS FOR DETERMINING EFFECTS ON MATERNAL & OFFSPRING METABOLIC SEQUELAE

Gestational diabetes (GDM) is a type of diabetes that develops during pregnancy that increases the risk of pregnancy and birth complications. New tests may allow doctors to identify women with GDM earlier and more accurately than the tests currently being used, but we need to understand them better. We will recruit 400 pregnant women and screen them using both traditional and new GDM screening tools at 12, 20, and 28 weeks of pregnancy to determine how well these tools identify women who are at risk of complications and need treatment.

Sponsor: NIH/NIDDK

Co-Principal Investigator: Teresa Hillier, MD, MS

KPHI Co-Investigator: Caryn Oshiro, PhD

CENTER FOR RESEARCH TO OPTIMIZE PRECISION LUNG CANCER SCREENING IN DIVERSE POPULATIONS

This project focuses on evaluating the benefits, harms, and costs of lung cancer screening and prevention in community health systems, with a particular focus on improving lung cancer screening and addressing health disparities in lung cancer-related deaths. The focus on addressing health disparities is particularly important for lung cancer, because lung cancer deaths are highest amongst medically underserved populations. The results of this work will ultimately be used to develop new interventions to decrease lung cancer deaths.

UM1CA221939

Sponsor: NIH/NCI

Subcontract to Kaiser Permanente Colorado

KPHI Principal Investigator: Stacey Honda, MD, PhD

KPHI Co-Investigator: Caryn Oshiro, PhD

UNDERSTANDING ETHNIC DIFFERENCE IN CANCER: THE MULTIETHNIC COHORT STUDY

The Multiethnic Cohort Study is a powerful resource for continuing research efforts aimed at greater understanding of the environmental causes of cancer and other chronic diseases, and how these risk factors interact with genetic variants to explain some of the ethnic/racial disparities in cancer risks in the U.S. population. It is our hope that this work ultimately will provide useful insights into the prevention, early detection and treatment of cancer.

U01CA164973

Sponsor: NIH/NIC

Subcontract to University of Hawaii

Principal Investigator: Loic Le Marchand, MD, PhD

KPHI Co-Investigator: Caryn Oshiro, PhD

KP CENTER FOR EFFECTIVENESS AND SAFETY RESEARCH (CESR)

Conducts and disseminates high-quality, high-priority, translational comparative effectiveness and safety research both in the public domain and within Kaiser Permanente (KP) and the field to improve public health and health care delivery.

Sponsor: Kaiser Community Benefit

KPHI Co-Investigator: Caryn Oshiro, PhD