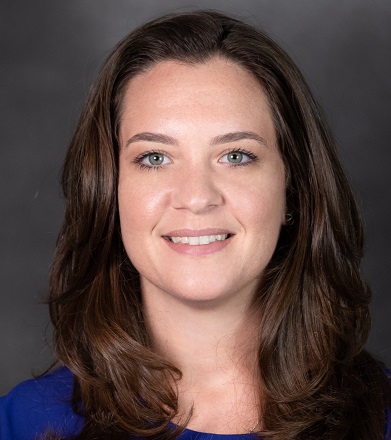 Vanessa Simiola, PsyD
Research Associate III
Contact Info
Email: Vanessa.L.Simiola@kp.org
Phone: (808) 432-5555 x1429
Vanessa Simiola, PsyD, is a licensed clinical psychologist whose expertise and primary interests are in traumatic stress studies with an emphasis on dissemination and implementation of evidence-based treatments, patient preferences, education and training, and stakeholder engagement. Dr. Simiola joined the CIHR team as a research associate in September 2017. Prior to working at the Center, Dr. Simiola was a research associate at Yale University, School of Medicine and completed her residency at the VA Pacific Islands Health Care System and the National Center for PTSD in Honolulu, HI.
Dr. Simiola' s research also focuses on minority health and health disparities, particularly among indigenous and socially disadvantaged patient populations. She has published several publications on the impact of trauma on older adults. Funded through a Patient Centered Outcomes Research Institute (PCORI) Engagement Award, Dr. Simiola worked to build trust, transparency and credibility between researchers and male survivors of sexual assault as well as developing related educational and interactive products. Dr. Simiola currently serves as a co-investigator on a recently PCORI-funded comparative effectiveness trial of online, peer-lead motivational interviewing that aims to transform behavioral health practices for sexual and gendered minority male survivors of sexual abuse to be person-centered, strength-based, collaborative, and culturally-responsive. In this trial, Dr. Simiola is using qualitative inquiry to understand trauma survivors' treatment preferences and needs.
Much of her research to date has focused on dissemination, implementation, and sustainability of evidence-based treatments for posttraumatic stress disorder. Dr. Simiola served as the primary interviewer for a five-year National Institute of Mental Health (NIMH)-funded study, conducting semi-structured interviews with front-line mental health providers and program directors across 40 sites across the US. She has numerous publications based on findings from this study with implications for achieving effective mental health treatments in the community. Within this domain, she has examined factors that influence and inhibit the translation from science to practice at the provider level and conducted a systematic review of the literature on patient preferences for trauma treatment.
Selected Publications:
Cook, J. M., Zeber, J. E., Simiola, V.,  Rossom, R., Scherrer, J. F., Owen-Smith, A. A., Matero, L. R., Ahmedani, B. K., Lynch, F., Zolfagari, K., Copeland, L. (in press). Comparisons between patients with PTSD in primary care versus mental health specialty care: Clinical characteristics and service utilization. Journal of Clinical Psychology in Medical Settings.
Simiola, V., Ellis, A. E., & Cook, J. M. (2019). Provider perspectives on choosing Prolonged Exposure or Cognitive Processing Therapy for PTSD: A national investigation of VA residential treatment providers. Practice Innovations, 4, 194-203.
Cook, J. M., Simiola, V., Ellis, A. E., & McCarthy, E. (2018). Use of reflective journaling to understand decision making regarding two evidence-based psychotherapies for PTSD. Practice Innovations, 3, 153-167.
Shiner, B., Westgate, C. L., Simiola, V., Schnurr, P. P., Hoff, R., & Cook, J. M. (2018). Measuring use of evidence-based psychotherapy for PTSD in residential treatment settings with clinician survey and electronic medical record templates. Military Medicine, 183, e539-e546.
Cook, J. M., & Simiola, V. (2018) Trauma and aging. Current Psychiatry Reports, 20, 93.
Cook, J. M., Simiola, V., Ellis, A. E., Street, A. (2018). Top ten questions male sexual abuse survivors want to know from health care research.  Journal of Aggression, Maltreatment and Trauma, 27, 867-882.
Simiola, V., Smothers, B., Thompson, R., & Cook, J. M. (2018). A national survey of trauma training in psychology internships. Journal of Aggression, Maltreatment & Trauma, 27, 309-322.
Simiola, V., Neilson, E., Thompson, R., & Cook, J. M. (2015). Patient preferences for trauma treatment: A systematic review, Psychological Trauma: Theory, Research, Practice, and Policy, 7, 516-524.
Dinnen, S., Simiola, V., & Cook, J.M. (2015). Posttraumatic stress disorder in older adults: A systematic review of the psychotherapy treatment literature, Aging and Mental Health, 19, 144-150.
Cook, J. M., Simiola, V., Hamblen, J., Bernardy, N., & Schnurr, P. P. (2016). The influence of patient readiness on implementation of evidence-based PTSD treatments in VA residential programs. Psychological Trauma: Theory, Research, Practice and Policy, Supple 1, 51-58.
Full List of Publications:
Studies:
PEER ONLINE MOTIVATIONAL INTERVIEWING FOR SEXUAL AND GENDER MINORITY MALE SURVIVORS

This study will investigate two different psychotherapies, delivered online by peer specialists with shared lived experience, to see if we can facilitate sexual and gender minority male sexual abuse survivors' formal entry into mental health services. Increasing their entry into mental health services may help address an important healthy disparity by alleviating their psychiatric distress, increasing their quality of life, and helping them get the treatment they need and deserve.

AD-2018C1-11098

Sponsor: PCORI

Subcontract to Yale University

KPHI Co-Investigator: Vanessa Simiola, PsyD

MENTAL HEALTH RESEARCH NETWORK III

The Mental Health Research Network will conduct practice-based mental health research in large healthcare systems serving over 25 million patients in 16 states. Infrastructure will include an Administrative Core responsible for governance, communications, and fostering research collaborations as well as a Methods Core responsible for advancing methods in mental health informatics and analytic methods. Four research projects will leverage this infrastructure to address questions of high priority to patient, health system, and policy stakeholders.

U19MH121738

Sponsor: NIH/NIMH

Subcontract to Kaiser Permanente Washington

KPHI Site Principal Investigator: Yihe Daida, PhD

KPHI Co-Investigator: Vanessa Simiola, PsyD

DOES FREE MEDICINES COVERAGE IMPROVE DIABETES SELF-CARE AND OUTCOMES FOR DIVERSE POPULATIONS?

This study will examine the immediate and long-term impacts of the provision of a zero-copay medication diabetes management program among highly diverse patients with diabetes. While these generous benefit programs can have a positive short-term impact on adherence, we know less about sustainability of gains over time, particularly when incentives are reduced or eliminated, or about who participates and benefits when such programs are introduced in real-world, multi-employer settings. This work will inform future decisions by health plans and employers about designing and offering value-based insurance plans as an optimal approach to improving the quality and health of patients with diabetes.

R18DK110773

Sponsor: NIH/NIDDK

KPHI Co-Investigator: Vanessa Simiola, PsyD

UNEARTHING INTERACTING NONTUBERCULOUS MYCOBACTERIAL, ENVIRONMENTAL, AND HOST DETERMINANTS OF LUNG DISEASE IN THE HAWAII ISLANDS

This project involves collection of environmental samples and biospecimens for cases and control participants to determine factors that contribute to the development of nontuberculous mycobacterial infections.

1743587

Sponsor: NSF

Subcontract to National Jewish Health

KPHI Co-Investigator: Stacey Honda, MD, PhD

KPHI Co-Investigator: Vanessa Simiola, PsyD

MOLECULAR MARKERS OF RISK OF SUBSEQUENT INVASIVE BREAST CANCER IN WOMEN WTH DUCTAL CARCINOMA IN SITU

Ductal carcinoma in situ (DCIS) of the breast is a non-invasive non-obligate precursor of invasive breast cancer (IBC), but currently it is not clear which DCIS patients will develop subsequent IBC. Using molecular approaches for analysis of DCIS specimens, our goal is to identify/validate molecular markers associated with risk of IBC development. The findings of this study might enhance the development of molecular markers for prediction of IBC risk and also improve the clinical management of women at high risk of IBC (e.g., by leading to the development of novel therapeutic agents targetting the molecular changes associated with invasive disease development, and by enabling chemoprevention to be targeted to specific subgroups of women).

R01CA218429

Sponsor: NIH/NCI

Subcontract to Albert Einstein College of Medicine

KPHI Co-Investigator: Stacey Honda, MD

KPHI Project Manager: Vanessa Simiola, PsyD